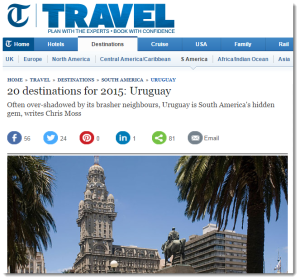 20 destinations for 2015: Uruguay
Often over-shadowed by its brasher neighbours, Uruguay is South America's hidden gem, writes Chris Moss
Why? Travel stories from Uruguay always focus on Punta del Este and its aspirational satellites, La Barra and José Ignacio. But some of the less obvious attractions of South America's smallest Spanish-speaking country lie away from the Atlantic coast. Wine buffs have been busy discovering Uruguay's tannat-based blends and varietals.
Wine, Olive Oil and the Good Life in Uruguay
Our first lunch was laid out like a last supper. There, in the middle of a vineyard, underneath a billowing white cotton tent, a long wooden table had been set up, every inch of it covered with platters of food. There was the stuff you might expect at a picnic: bread, homemade and chewy; wedges of various cheeses arranged on wooden cutting boards; paper-thin slivers of prosciutto and salami. Then there were the local specialties — bowls of creamy spinach dip, stacks of freshly baked empanadas, stuffed with tuna and still steaming. And finally the wine, bottles of the heavy stuff this area was famous for and what brought us here in the first place.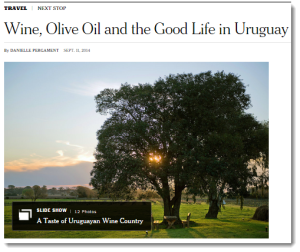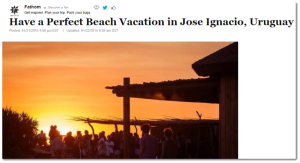 Have a perfect beach vacation in José Ignacio, Uruguay
Old Montauk meets Malibu in Jose Ignacio and the coastal towns surrounding Punta del Este in Southeastern Uruguay. Here you'll find everything from surf shacks to gauchos in traditional garb, not to mention delicious communal asados (barbecues) set on wide Atlantic beaches. Punta del Este serves as an entry point to a series of lovely fishing villages and quieter inland destinations such as Garzón, the Deco throwback set amongst verdant, rolling hills that is home to famed Argentine chef Francis Mallman's hotel and restaurant, Garzon.
Playa Nice
Uruguay's Punta del Este has long been ?a glamorous jet-set destination. But the country also boasts a decidedly ?laid-back, rustic-chic beach scene.
In the pantheon of eternal underdogs, there will always be a special place for Uruguay, the small, flat, and mostly featureless country that's known mainly for lacking the world-class attractions of its nearest neighbors, Argentina and Brazil…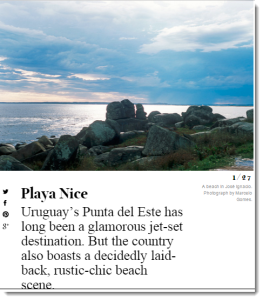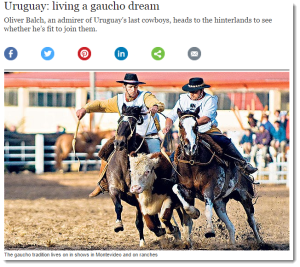 Uruguay: living a gaucho dream
Oliver Balch, an admirer of Uruguay's last cowboys, heads to the hinterlands to see whether he's fit to join them.
The cowboy tips his hat. I nod, as nonchalantly as I can. He grunts. I grunt back. This is how it should be. Amiable laconicism. Men among men. We're in Uruguayan gaucho country after all.
In Uruguay, Bohemian-Chic at the Beach
WHEN summer arrives in December, La Pedrera's main street bustles with families dining al fresco, sandy-haired teenagers hanging out in board shorts, jazz musicians entertaining passers-by and artisans selling handmade jewelry on makeshift stands.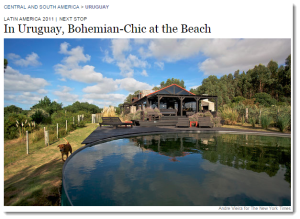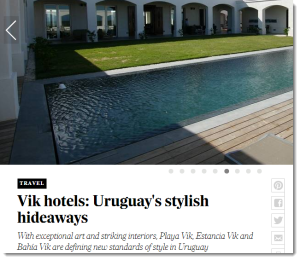 Vik hotels: Uruguay's stylish hideaways
With exceptional art and striking interiors, Playa Vik, Estancia Vik and Bahía Vik are defining new standards of style in Uruguay
Four years ago the Norwegian-Uruguayan billionaire investor Alexander Vik took the decision with his American wife, Carrie, to admit paying guests to Playa Vik, the four-bedroom beach house (plus six satellite casitas) they had built on Playa Mansa near Faro José Ignacio, 12 miles from the super-fashionable Uruguayan resort town of Punta del Este.
Your Next Winter Escape: Punta Del Este in Uruguay
"The Hamptons of Buenos Aires" is the easy shorthand for Punta del Este, a reference to the fact that well-off Porteños started building their summer retreats here a century ago. But I prefer the "St. Barth of South America," as this sunny, sandy sliver of Uruguayan coast is now also a magnet for Brazilians, drawn by the safety, plus a smattering of international jet-setters. It's also more casual than most millionaires' playgrounds—I've never taken "barefoot luxury" so literally: At two prestigious establishments here, I followed the lead of other guests and kicked off my shoes at the door.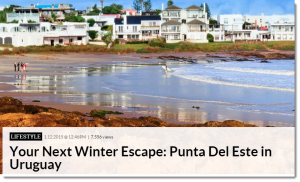 At home on the range in Uruguay
Fancy life as a gaucho? The ranches of Uruguay are the place to come over all cowboy, from horseriding to cattle-herding to eating huge amounts of meat…
Perched on horseback, I listened to the prairie sing its own song. The rumbling cattle hooves, bellowing moos and metallic groans of American windpumps were the orchestral arrangements. The gauchos – South American cowboys – were the conductors, their yelps of encouragement drifting across the bottle-green plains.
Uruguay's boutique wineries
"I love creating new blends, experimenting with grapes and techniques, and taking risks. Any winery today can hire an oenologist and make standard wines. But it's about the process. If I had to make the same wine all the time to the same standard…" said boutique winemaker Pablo Fallabrino, before trailing off and bursting into laughter.