Tailormade Trips to Uruguay: Luxury Tours, Adventure Vacations, Family Fun and More
With decades of experience in planning only the best, most innovative and insightful journeys around Uruguay, at Lares Tours we pride ourselves on approaching every single one of those trips with pure passion, excitement, and complete commitment. For us, to see the highlights of Uruguay, visit off-the-beaten-track destinations and witness its many natural wonders, cultural sites and gorgeous coastline, is one of the great travel experiences in South America. And, as a top DMC and tour operator in Uruguay, Lares are perfectly placed to ensure that you, or your traveling clients, also experience the real Uruguay, whether on a honeymoon to South America, adventure trip, family-friendly summer vacation, small group or couples escape; it's what we do, and what we love.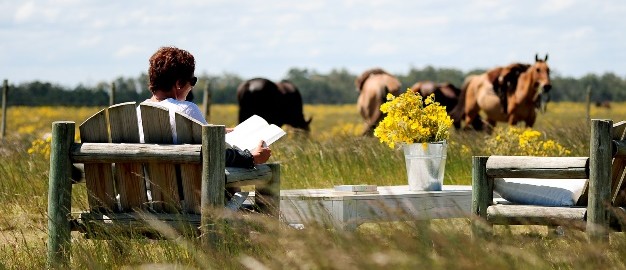 Read More
At Lares, we believe that true travel is so much more than simply ticking places off a list – it is about an authentic, intimate connection with the environment, people and culture, and it's on this unwavering philosophy that we will build your unforgettable trip. So today, we partner with the very best luxury hotels in Uruguay, most exclusive and authentic estancias, highly qualified guides and trusted experience providers. However, we are still true to our roots, with friends and connections across the country's more remote, rural areas too.
As a boutique Uruguay DMC, our carefully curated tours are an inspiring collection of expertly designed routes, incorporating specific themes and experiences to capture the far reaches of your imagination. Whether looking for an indulgent luxury escape, tantalizing foodie tour, or
adrenalin-packed adventure – Lares' handpicked guides will help get under the skin of Uruguay. Every one of them knows their destination inside out, harboring a real love for what they do, always thrilled to share their knowledge, passion and infectious enthusiasm with traveling guests.
For us Uruguay is a unique destination in South America, brimming with hidden treasures, making every trip so different and so special. And at Lares we have real-life, in-depth knowledge of it all, having stayed at every hotel, visited the regions and tried each excursion that we then
recommend, meaning you, or your traveling clients, could not be in safer hands. What's more, the top accommodation options in the country are cherry-picked to ensure that your Uruguayan home is just as memorable as the day-to-day experiences themselves. Hop between characterful boutique hideaways, lavish beach retreats or authentic rural haciendas, as no matter what your style, preference or budget, you can be sure that Lares Tours has the perfect place in mind, just for you.